First, before I begin this post -we have exciting news. As mentioned in a previous blog post  we have a two-pronged approach to raising money for our new game development. Both seem to be going quite well, as today we were informed we had gone through to the second stage of the UK Game Fund application process! We are very pleased about that.
The other possible money-raising idea is now TOP SECRET – so can't say much more about that at the moment. Keep checking the blog!
So, today's topic is User Engagement. Now that we have a popular and fun game – how do we look after our players and keep them coming back day after day?
The nature of Interference is that nothing happens immediately. The players choose to draw or describe in a game that has many steps. So between 15 -33 are needed to complete each game. However – that makes it a strength – as we email the player to let them know when their game has finished. This means they will come back to see how their game ended up and how their own contribution affected the game outcome.
This is one of our recent favourite games as an illustration: Owl and Pussy Cat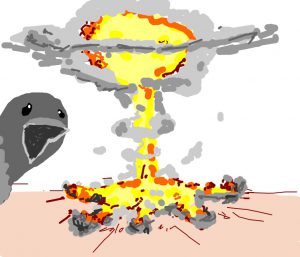 Another hook is that we allow other players to "like" individual drawings or descriptions, so that players will log back in or open the app to see how many likes they have got. Players can also comment on games once they are finished which helps to get the players engaged with each other.
We also provide a forum area – where we as the game devs can give updates and news on the game and future developments. It also means that any player can start a thread – related to the game or completely random. It had resulted in some interesting topics. There's the "Where is everyone from" thread created by a player that gives us useful insight to all the countries where Interference is played.
They have even used the forums to make up their own word games such as "Last and First" which has been going for three years now! It really has reinforced Interference as not only a casual game – but a social one too.
It's good to see the same players returning again and again. We want Interference to be addictive!
Obviously there have been minor incidents where there has been disrespect on the forums – but this is dealt with by the moderation system and players are warned that if they abuse the system they will lose the ability to post on there.
Recently Nathan and I went on a free PR course – run by a local media expert Nigel Howle, which we won as part of the perks of being a finalist in the Business Boost Awards. We try to take advantage of such opportunities – as we are on a start-up budget (i.e. zero!) and we love to learn!
One of the other participants were a local firm that make company videos and they advised us that a company will get much more engagement with their advertising and social media if they include a video. Apparently the ideal length is just 60 seconds – as not many people will keep watching after that.
That is why this year we have resolved to do a short weekly video update for Interference in 2017. That means that everyone will be able to see the people behind the games and maybe we will get some new players too. The only problem is that when the first one was due – we were both struck down with 'flu! But, a resolution is a resolution – so we did the video anyway – in our pyjamas!
I'm sure you can find it if you look on Interference. Hopefully the next one will be a little more professional!!
We'd love to hear ideas from other game devs about how to engage players – get in touch!
The next blog will be about – how to get your games noticed and find new players!