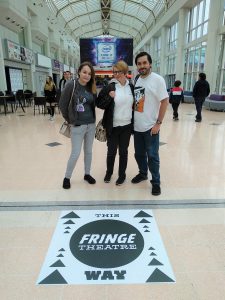 We recently went to EGX – the UK's biggest games event and we had a very productive time! It wasn't all fun and games as our team, consisting of Nathan and Berni – the company founders – and Sarah – who kindly volunteers as our community manager – gave a talk at the show.
For the first time this year there was an EGX Fringe Theatre with a schedule "consisting entirely of panel sessions proposed and delivered by the EGX community". We proposed a session called: "Lessons from game Development – If you build it they will come. (Spoiler: They won't)"

The blurb of it was: "Join the team from Centrifuge (makers of Interference and other casual games) as they discuss their gamedev journey over the last few years and share the incorrect assumptions and mistakes that they made along the way. Featuring panellists Nathan, Berni and Sarah."
We were pretty pleased when it was accepted and we were given a slot on The Fringe stage at 2pm on the first day of the show. We didn't expect many people to come as it was the first day and no-one really knows who we are. Imagine our surprise as we were setting up the AV for the presentation – the room started to fill up. Then a class of school children came in with their teachers and there was standing room only!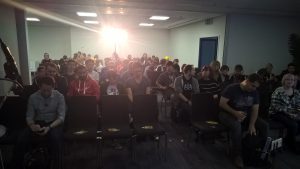 We really enjoyed talking about our game development journey so far and framed the session as:  Assumption followed by Reality then Advice.
For example:
Assumption: We've had an interesting idea, and made a game. Let's send out a press release, and people will talk about it
Reality: You can contact the big sites, but you're probably not going to be as interesting as the other press releases they receive
Advice: Start small
Try your local press (they're always interested in new stories in their area)
We met with our local business editor and she covers any new developments we have
Look for more specialised website/magazines
When we released Interference on Windows 10 we sent press releases to sites like Windows Central, because it's more relevant to their readership
Contact individual journalists who are interested in your type of game
Don't rely on sending messages to a general tips address
Nathan talked about the actual making of the game, Berni talked about social media, awards and PR and Sarah chatted about managing and engaging your community.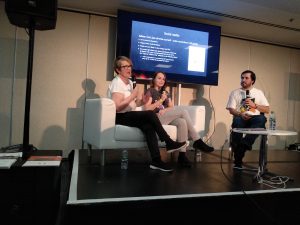 The 45 minute slot flew by and we only had time for one question from the audience, although a few people stayed behind to talk to us afterwards. It was nice to see so many other game developers in the audience and the comments we were getting were that it was refreshing to hear a realistic and honest account of what it is like to start small and make games!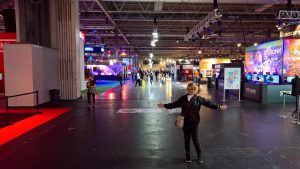 One good thing about having a slot on Thursday was that we then had the rest of the show to relax, play games and enjoy networking with other game makers and players. Well, that and the fact that we could get in early before the masses!
If you'd like to see our talk then we'll be editing it soon and throwing it up on YouTube. Will put the link in here soon!